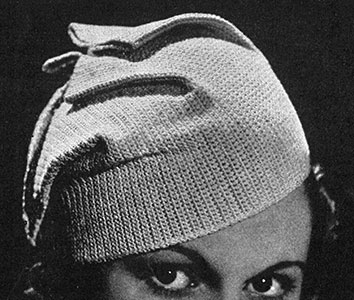 Materials: Clark's O.N.T. Knitting & Crochet Cotton, 2 balls. (There will be sufficient thread to also make a pair of gauntlet cuffs to match.) Milward's steel cro­chet hook No. 3.
If preferred, Clark's O.N.T. or J. & P. Coats Mer­cerized Crochet size 5 White or Ecru may be used.
To begin, ch 63 (to measure about 7 inches), turn. 1st row: 1 s c in 2nd ch from hook, 1 s c in each st of ch. Ch 1, turn. 2nd and subsequent rows: 1 s c in each s c of previous row, ch 1, turn. Continue until work measures headsize. Sew ends together. Then work a row of sl st around edge to hold from stretching. Place on the head with seam at right side, then drape and plait to suit the wearer.
other patterns in leaflet: