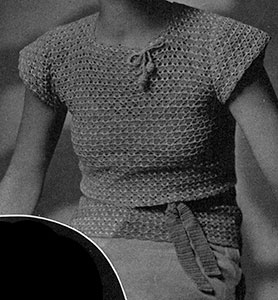 Blouse instructions are given for size 16. It is always well to remember to take your own individual mea­surements—bust, underarm to waistline, across back, length of back to waist, arm, etc.—and check these against your work as you go. Variations frequently occur because of the fact that some persons crochet more loosely or tightly than others. Consequently, you may find it necessary to make a few minor indi­vidual adjustments in the directions. Remember also that should you choose to use Mercerized Crochet thread instead of Knitting & Crochet Cotton, a few additional stitches may be required to attain the size desired as diameters of these threads are not the same.
Materials: Clark's O.N.T. Knitting & Crochet Cotton, 4 balls of color and 1 ball of White or Ecru. Milward's steel crochet hook No. 4.
This blouse is also very attractive made by using double threads of Mercerized Crochet size 30, Clark's O.N.T. 17 balls of color and 6 balls of White; or J. & P. Coats 11 balls of color and 4 balls of White.
BACK. With White, ch 136. 1st row: 1 s c in 8th st from hook, * ch 4, skip 3 sts of foundation ch, 1 s c in next, repeat from * across making 33 loops.
2nd row: Attach color at end of last row, ch 5, turn, * 1 s c through center of 1st loop, ch 2, 4 d c over next loop, ch 2, repeat from * ending with 1 s c in last loop, ch 2, 1 d c in last st, draw up a loop to prevent ripping (16½ patterns). 3rd row: Take up white, sl st into 2nd ch at beginning of last row, * ch 4, 1 s c in top of 1st d c of group, ch 4, skip 2 d c, 1 s c in last d c of group. Repeat from *, ending with ch 4, s c into color loop st at end of row, taking off sts on hook with color, ch 3. 4th row: * With color, 4 d c over 1st loop, ch 2, 1 s c in next loop, ch 2. Repeat from * ending with 4 d c in last loop. 5th row: Take up white, work as for 3rd row. Repeat the 4 rows from 2nd through the 5th. Work 14 inches, ending with a white row. Break off thread. Skipping 1½ patterns (3 white loops), attach color at beginning of 4th loop, work pattern over to within 3 loops of end, thus leaving off 1½ patterns each side for the underarms. Work until 11 color stripes, or 5½ inches from the under­arms are made, alternating with white stripes and ending with white stripe.
FRONT. On next colored stripe, work pattern over 1st 9 loops only, and continue for 3 inches. On next white row at neck-end, add 44 ch (11 loops). Work same way for 3 inches, ending with color. Break off. Leave 9 loops for center back, attach color in next pattern on shoulder, work over 9 loops for second shoulder. Work 3 inches, then make an extra ch-16 at neck-end with white (4 loops) and continue pattern for 3 inches to match other side. With white, work across both sides. Work 1 row of color, then on next white row add ch-13 (3 loops) on each side for under­arm. Finish front to match back. With color, work pattern across lower edge of back, putting stitches in loops of foundation ch. Sew up underarm seams.
EPAULETTES. Fold armhole in half, attach white on back of armhole in end of 6th white row from center. Make 15 loops having last loop end in 6th white row on front of armhole. Work colored pattern. Make 6 more rows, adding 1 pattern to each side, then alternating with a row of white. Make 1 row without in­creasing (20 patterns) and last row (9th colored row) work 22 patterns all around.
NECK EDGE. Finish neck edge by working shell pat­tern all around, and work side opening at neck with a row of s c on both sides. Make a cord 18 inches long by making a ch with the colored and white threads used together. Lace it through the meshes on both sides of the front opening. Sew on a small tassel or ball on each end of tie string.
BELT. With color, make a ch 1½ inches wide, 1 half d c in 2nd st from hook, then in each st on ch. Ch 2, turn, half d c in each st, working through both loops of the sts on row below. Crochet a strip 8 inches longer than waist measurement. This belt may be tied in a loop or used with a slide buckle. Loops for Belt. Make a ch 1½ inches and fasten at waistline. Work s c over ch, fasten off, leaving enough thread to thread in a sewing needle for sewing the loop in place.
other patterns in leaflet: