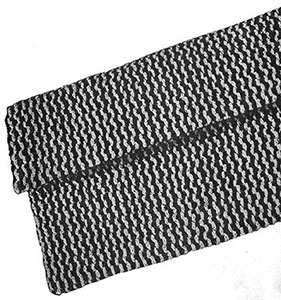 MATERIALS:
J. & P. COATS KNIT-CRO-SHEEN, 4 balls of Skipper Blue and 2 balls of Ecru.
Steel Crochet Hook No. 1.
½ yard of quilted satin for lining.
GAUGE: 7 sps make 2 inches; 6 rows make 1½ inches.
Starting at short side with Skipper Blue, ch 87 to measure 12 inches. 1st row: Dc in 5th ch from hook, * ch 1, skip 1 ch, dc in next ch. Repeat from * across (42 sps). Ch 4, turn. 2nd row: * Dc in next dc, ch 1. Repeat from * across. Ch 4, turn.
Repeat the 2nd row until piece measures 20 inches. Fasten off.
With double thread of Ecru, make a chain slightly longer than twice the length of crocheted piece. Weave this chain over and under the rows of spaces on crocheted piece lengthwise to opposite end. Turn and weave the remainder of chain through the same spaces, weaving over those picked up on previous row and going under those passed over.
Line Purse with quilted satin. Fold as for an envelope and on wrong side sew up the short sides with neat over-and-over stitches.
Fasten Purse with 2 large snap fasteners.
other patterns in leaflet: