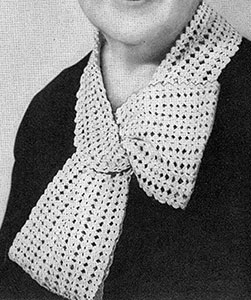 Materials:
Clark's O.N.T. Mercerized Crochet, 8 balls, Size 30, or Clark's O.N.T. "Brilliant."
Milward's steel crochet hook No. 2.
To begin, ch 49 loosely. This should measure 6 inches and will be the width of scarf. 1st row: 1 d c in 4th ch from hook, 2 d c in same st, * ch 1, 4 d c in same st (this forms a shell) skip 4 sts, 4 d c in 5th st, and repeat from * until you have made 10 shells. Ch 1, turn. 2nd row: Sl st in each of 1st 3 d c of shell of previous row. 1 sl st in ch-1 space (sp) ch 3, 3 d c in same sp, ch 1, 4 d c in same sp, and continue making shells till scarf measures 24 inches long. Then sew the two ends together. Make a similar scarf of the same length, or longer if desired.
Fold one scarf double and wear it around the neck like a collar. Pull the other scarf through this and wear as a bow as in illustration.
other patterns in leaflet: