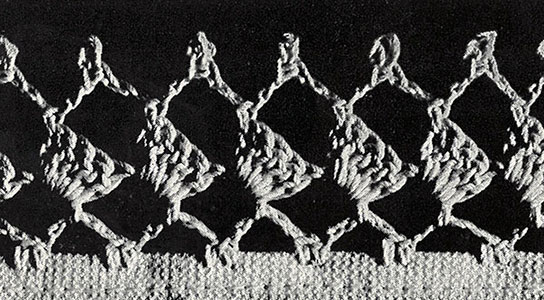 BATH TOWEL EDGING
Materials:
Clark's O.N.T. Knitting and Crochet Cot­ton, J. & P. Coats Crochet Cord, or Pearl Cotton Size 5 in either brand. These soft textured threads in Boil­fast colors are best adapted for use on bath towels.
Milward's steel crochet hook No. 3 or 4.
1st row: May be worked directly into the material or on a foundation ch full length desired. 2 s c in edge, ch 5, skip space enough to make ch-5 slightly looped, and repeat from beginning to end. 2nd row: Sl st to center of 1st loop, ch 7, skip 3 ch, 1 d c in each of next 4 ch. * D c in next loop of 1st row, ch 3, 4 d c worked around d c. Repeat from * to end. 3rd row: Catch in top point of 1st block, at end of ch-3. * Ch 7, catch in 5th ch from needle, ch 2, catch in next point. Repeat from * to end.
other patterns in leaflet: