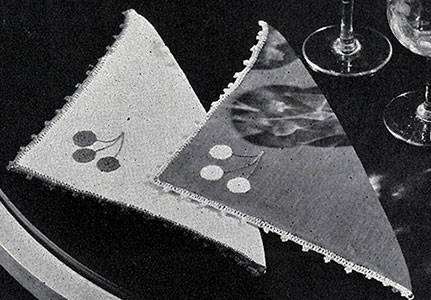 These handkerchief linen cocktail napkins have a dainty edge and design in Mercerized Crochet Cotton. The white napkin is crocheted in yellow, the yellow crocheted in white. A smart new idea is to make a set of half yellow with white and half white with yellow.
For the cocktail napkins, use handkerchief or French linen, cut 8 inches square. Fold ⅛ inch hems and draw 2 or 3 threads through which to put the crochet hook. The yellow napkin is finished with a white edge and has white motifs and the white napkin has yellow motifs and a yellow edge.
Materials:
Clark's O.N.T. or J. & P. Coats Mercerized Crochet No. 30. 1 ball Yellow, 1 ball White.
Milward's steel crochet hook No. 8.
PICOT EDGE. * Make 7 s c over the hem, ch 5. Take out hook and put it in top of last s c and draw through free loop. Repeat from * around napkin.
MOTIF. 1st row: Into a loop of thread make 7 s c, sl st to 1st st, pull thread of loop tight. 2nd row: Into each s c of 1st row put 2 s c, sl st to 1st st at end of row. 3rd row: * Put 1 s c in 1st st, 2 s c in 2nd st, repeat from * around and finish with a sl st. Make 3 motifs for each napkin and appliqué in one corner. The stems are done in outline stitch with Boil­fast embroidery cotton.
other patterns in leaflet: