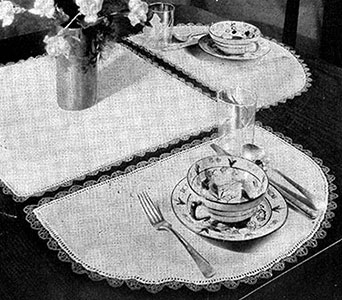 The unusual shape of these place mats and napkins makes this luncheon set unique and particularly adaptable for use on a round or oval table. Cut place mats 18 x 10 inches, and then curve one side to form a semi-circle. Cut center piece 18 x 18 inches. Napkins are a semi-circle 12 x 7 inches. Have outside edge machine hemstitched.
Materials: Clark's O.N.T. or J. & P. Coats Mercerized Crochet, size 30, 4 balls of color 9 Yellow and 7 balls of color 55 Navy Blue. Milward's steel crochet hook No. 7 or 8. 1¼ yards of 36-inch yellow linen.
Edging: 1st row: With Yellow, s c closely along hemstitched edge of material, making 3 s c at each corner. Join with sl st. 2nd row: Ch 5, skip 1 s c, d c in next, ch 2, and make row of sps at equal intervals so that work lies flat. In corner s c make 2 d c with ch-3 between. Join with sl st to 3rd ch of ch-5 first made. 3rd row: 2 s c in each of next 3 sps, * s c in next sp, ch 6, s c in same sp, 2 s c (or more if necessary to make work lie flat) in each of next 5 sps. Repeat from * along row. Plan work so that the ch-6 will come in corner sp. Join and break off.
4th row: Attach Navy Blue in center s c between 2 ch-6 loops, * ch 3, make 4 3-tr clusters with ch-2 between in ch-6 loop, ch 3, skip 2 sps, s c in s c over next sp. Repeat from * along row. In corner ch-6 make 5 clusters. Join 5th row: Make 7 s c in each ch loop. Join.
other patterns in leaflet: