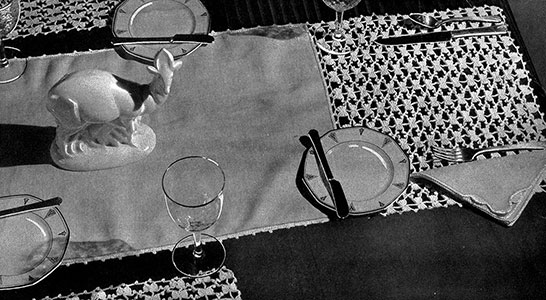 Materials: Clark's O.N.T. Cronita, White, 10 balls, or J. & P. Coats Knit-Cro-Sheen, 9 balls, for runner, place mats and 4 napkins. Milward's steel crochet hook No. 4. 1¼ yards of 36-inch yellow or any col­ored linen. Choose linen to harmonize in weight with the crochet work.
Runner: Ch 131, turn 1st row: Wrap thread 8 times over hook (¾ inch above head of hook) avoiding wrapping one thread over another on hook. With forefinger of right hand lower all these wrapped threads together near head of hook, insert it in 4th ch from hook, thread over, draw loop out on hook, thread over again, and draw through all the wrapped threads on hook at once, make 1 ch (thus fastening the mesh). Wrap over 8 times and continue making 3 more meshes the same way, making them all in the same ch st as the first mesh (a group of 4 meshes made), * ch 2, a ch-4 p, ch 2, skip 8 sts of ch, make a group of 4 meshes in next ch, and repeat from * to end of ch (15 groups in all). Ch 4, sl st in st in which last group was made.
2nd row: Ch 4, and work around other side of foun­dation ch as follows: * Make a group of 4 meshes in the same st as next group of previous row, ch 2, ch-4 p, ch 3, ch-4 p, ch 2, repeat from * to end of row. Fasten and break thread. 3rd row: Make ch same length as before (131 sts), turn. Make a group of 4-meshes in 4th ch from hook, * ch 2, ch-4 p, ch 1, join with sl st to center st of next ch-3 between 2 p's of previous row, ch 1, ch-4 p, ch 2, skip 8 sts on ch, make a group of 4 meshes in next st, repeat from * to end of row. Then ch 4, and continue back as in 2nd row. 4th to 21st rows incl: Repeat 2nd and 3rd rows alternately.
22nd row: Work to correspond with 1st row. Finish the two side edges (to make them coincide with the 1st and last rows) as follows: Attach thread to first mesh made, ch 2, ch-4 p, ch 2, sl to 4th mesh of last group in 2nd row, ch 4, ch-4 p, ch 4, sl st to 1st mesh of 3rd row, and continue to end of side. Then work across other side in same way. Make another piece to correspond.
Cut linen for center 15½ inches by 31 inches, and 4 napkins, 13 by 13 inches. Have pieces hemstitched, or draw threads about ¼ inch in from each edge.
Then s c around all sides of the center strip, and finish the two long sides of the linen as follows: Starting at one corner, Ch 5, ch-3 p, ch 5, skip 9 s c, s c in next, and continue till next corner.
Tack on the two pieces just made along each of the short sides of the linen, by attaching each picot to about every 7th or 8th single crochet—to fit into the same width as the linen.
Place Mats: Make 4 pieces the same as for the ends of the runner.
Napkins: The linen for the napkin can be straight on all sides, or shaped at one corner as in illustration. S c closely around edge. To add a new note to the shaped corner of the napkins, make 2 groups of meshes closely together to give the appearance of butterflies, as shown in illustration.
other patterns in leaflet: