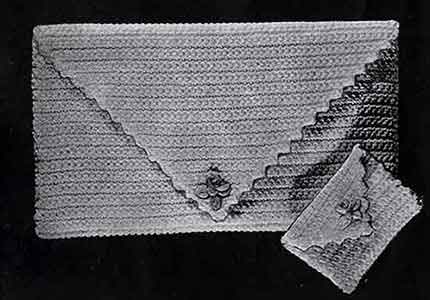 Materials: Clark's O. N. T. or J. & P. Coats Mer­cerized Crochet. Size 5. White or Ecru. Six Strand Embroidery Floss, 1 skein. Milward's steel crochet hook, No. 5.
To begin, ch 61, turn. 1st row: 1 s c in 2nd ch from hook and in each st of foundation ch. Ch 1, turn. (Turning ch-1 will count as 1 s c on following row) 2nd row: Skip 1st s c of previous row, 1 s c in each of the following sts, 1 s c in turning ch, ch 1, turn. Reverse work.
3rd to 82nd rows incl: The same as 2nd row. Do not ch 1 to turn at end of 82nd row. 83rd row: S1 st into 1st st, ch 1, skip 1 st, and continue with 1 s c in each st to within 1 st from end of row. Turn work. In this way 1 st is decreased at beginning and at end of each row (2 decreases in the row).
84th to 110th rows inc.: Same as 83rd row (2 de­creases in each row). There should be 4 sts left after the 110th row. Fasten and break thread. Before whipping together the sides of the purse, sew in a lining. To sew the sides, fold at the 38th row, and whip together at the wrong side. For decoration, embroider near the point of the flap a Lazy Daisy of 4 loops with a French Knot in the center. Sew a snap fastener on the other side of the embroidered decoration, and another to correspond.
Coin Purse. Ch 21, and over this ch work 33 rows of s c, the same as for the larger bag. Then decrease 2 sts to a row for 8 rows. Fasten and break thread. Sew in a lining. Fold at the 14th row and whip the sides together. Make the same decoration at the point of the flap, and sew on snap fasteners.
other patterns in leaflet: