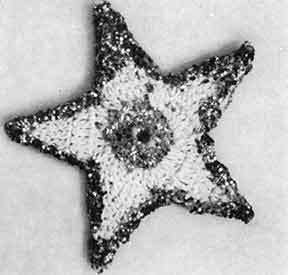 Materials Required:
AMERICAN THREAD
The Famous "PURITAN" MERCERIZED
CROCHET COTTON
1 – 250 yd. Ball White
Steel Crochet Hook No. 7
1 pkg. Silver Glitter and Glue
Ch 6, join to form a ring, ch 3, work 19 d c into ring, join in 3rd st of ch.
1st POINT OF STAR: ** Ch 3, 1 d c in same st, 2 d c in each of the next 3 d c, ch 1, turn, * dec 1 d c at beg and end of row, (to dec: thread over hook, insert in st, pull through and work off 2 loops, thread over, insert in next st, pull through and work off 2 loops, thread over and work off all loops at one time), ch 1, turn. Repeat from * until all sts have been dec, cut thread.
REMAINING POINTS OF STAR: Join thread in next free d c of 1st row. Repeat from ** until 2nd point of Star is com­pleted. Complete 3 remaining points of Star to correspond, do not cut thread at end of 5th point of Star but work a row of s c all around the last 4 rows of all 5 points of Star, cut thread.
Place a small amount of Silver glitter on waxed paper and taking care not to go beyond outline of row, glue center of Star, then dip into glitter. Glue outside edges of Star and dip into glitter, let dry and complete other side in same manner.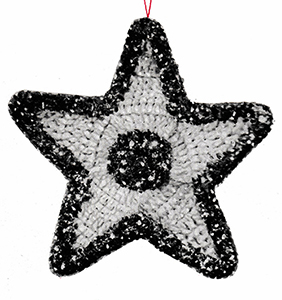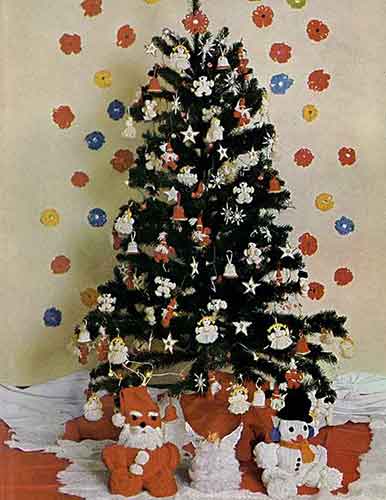 other patterns in leaflet: