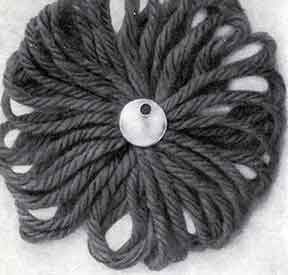 Materials Required:
AMERICAN THREAD
AUNT LYDIA'S HEAVY RUG YARN
1 – 70 yd. skein makes 18 – 4 inch Daisies or 13 – 5 inch Daisies
Large Sequins
Stiff Cardboard 4½ inch wide for Small Daisy; 5½ inch wide for Large Daisy
Glue
Wind yarn around cardboard with each loop directly next to the other. Wind 18 times for large; 14 times for small.
Slip yarn off gently with loops re­maining side by side.
Place loops across a 3 inch length of yarn. Tie loops securely in center with length of yarn. Snip off ends at cen­ter-along with the two loop ends.
Pull each loop to the side, so they are arranged as daisy petals.
Glue large sequin at center.
Attach daisy to tree with green thread drawn through one or two loops.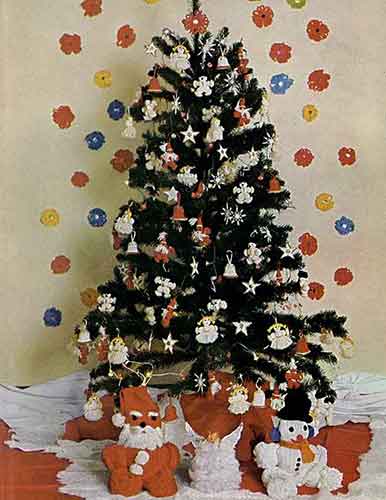 other patterns in leaflet: