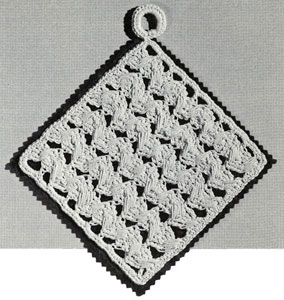 COATS & CLARK'S O.N.T. "SPEED-CRO-SHEEN" MERCERIZED COTTON: 1 ball of No. 10-A Canary Yellow.
Milwards Steel Crochet Hook No. 2/0 (double zero).
1 bone ring and a piece of felt.
GAUGE: 1 shell = 1 inch.
Ch 46 to measure 9½ inches. 1st row: Tr in 8th ch from hook (turning chain) and in next 2 ch; now, drawing up the loop of each tr to measure ½ inch and working over the 3 tr just made into the turning chain, make tr in the 3rd ch from base of first tr made, then tr in the 2nd ch, then tr in the first ch—starting cross shell made; (skip next 4 ch on starting chain, tr in next 3 ch, now working over last 3 tr made, skip first ch of the skipped ch-4, make tr as before in next 3 ch—cross shell made) 5 times; tr in last ch. Ch 4, turn. 2nd row: (Skip first 3 tr of cross shell, tr in next 3 tr; now working as before, tr in the first, then in the 2nd and then in the 3rd skipped tr—cross shell over cross shell made) 6 times; tr in top of turn­ing chain. Ch 4, turn. Repeat 2nd row 7 times more—there are 9 rows in all. At end of last row omit turning chain, ch 1, sc closely around entire edge, mak­ing 3 sc in each corner and having the same number of sc's between corners. Join with sl st to first sc. Turn, sl st in each sc around. Break off and fasten. Block to 6½ x 6½ inches.
Cut a piece of felt 7 inches square. Sew crocheted piece to felt, with felt extend­ing ¼ inch all around.
Ring: Sc closely around ring. Sew ring to corner.
other patterns in leaflet: