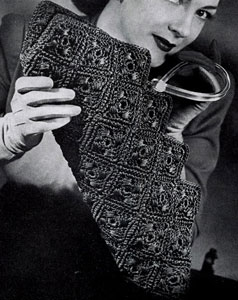 Materials:
HIAWATHA Super Twist Rayon Cord Art. 41, 5 tubes
Steel crochet hook No. 0 or bone crochet hook No. 3
10" TALON Slide Fastener Style 148 (available at all notion counters)
HIAWATHA Lining Material and Buckram Art. H-l 13
HIAWATHA Lucite Full No. 6242
SQUARES (Make 52)
Starting at the center, ch 5. Join with sl st to form a ring.
1st rnd—Ch 1, 12 sc in ring. Join with sl st to 1st sc.
2nd rnd—Ch 3, dc in next 3 sc, ch 1, work 3 dc over the last 3 dc made (inserting hook between the starting ch-3 and the 1st dc and completely covering the first 3 dc), * dc in next 3 sc, ch 1, work 3 dc over the last group of 3 dc. Repeat from * 2 more times. Join to top of 1st dc.
3rd rnd—Sc in 1st 3 sts, * 3 sc in the ch-1, sc in next 6 sts. Repeat from * around (36 sc). Join and fasten off. Join squares with sc's from wrong side of work, following diagram.
FINISHING
Cut linings and interlining, following di­rections in kit H-113.
Join bag as follows: Pin points B together. Turn up point A to meet points B and crochet corners together from right side of work. Make bag lining with slide fastener, place lining in crocheted piece, and sew into place. Turn up other end of bag and crochet to­gether, then work 1 row of sc along top edges. Make a chain 2 inches long and at­tach pull to slide fastener tab.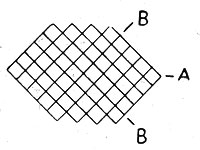 other patterns in leaflet: