How It's Done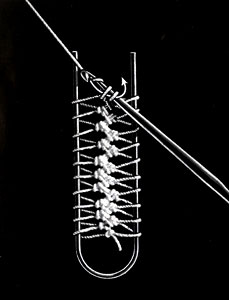 To make hairpin lace, use a crochet hook and a regular hairpin lace staple. With the crochet hook, make a loose ch st. Take out the hook and insert left-hand prong of the staple upwards through the stitch. Draw out loop until knot is halfway between prongs. Then bring the thread front and around right-hand prong. Insert hook through loop around left-hand prong, draw thread through and make a ch st. * To get crochet hook in position for next step, without drawing out loop on the hook, turn the handle of hook upwards so that it is parallel with the prongs, then pass it between the prongs to the back of the staple. Now turn the staple over once to the left (which makes a loop over the right prong). Insert the crochet hook up through front thread of loop at left and make an s c. Repeat from *. Continue until the prongs are covered with loops, then slip them off the staple and replace the two prongs into the last 4 loops. Work for desired length.
Some persons prefer to hold the prongs of the staple with the open end towards the bottom so that the work will slip off as the length of lace is made.
Hairpin Lace
Choose your thread for hairpin lace according to the article which it is to trim. Unusual effects are obtained with the lovely shaded and variegated colors of some threads.
Many interesting ideas can be developed from this very simple knowledge of Hairpin Lace. Edgings, blouses, dresses, bags, collars, etc., are a simple com­bining of these strips.
Practice making the edges given below.
The Hairpin Hedge
Make hairpin lace the length desired. Turn and work 1 s c in each loop along one side. Fasten off. Attach thread to 1st loop on other side and work as follows: * Insert hook in next loop, thread over hook, draw loop out on hook. Repeat from * 2 more times (4 loops on hook), thread over hook, draw through all 4 loops at once, ch 4, repeat from draw * to end of row.

The Hairpin Garden
With White, make hairpin lace the length desired.
1st row: Attach any desired color to 1st loop. * Insert hook in each of the next 3 loops and make one s c, ch 3. Repeat from * to end, then ch 3, turn.
2nd row: 3 d c under 1st ch-3 loop of previous row, * ch 2, 3 d c under same loop, s c under next loop, 3 d c under next loop. Repeat from * to end of row. Attach same color to 1st loop on other side of hairpin lace and work same as 1st row.