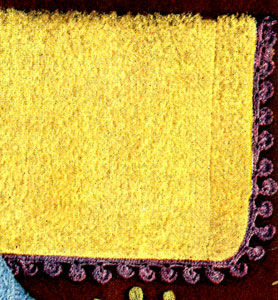 MATERIALS:
J. & P. COATS or CLARK'S O.N.T. PEARL COTTON, Art. A. or B.19, Size 5: 1 ball of No. 37 Dk. Laven­der; or
J. & P. Coats "Knit-Cro-Sheen," Art. A.64: 1 ball of a color of your own choice; or
Clark's O.N.T. Mercerized Bedspread Cotton, Art. B.504: 1 ball of a color of your own choice.
Milwards Steel Crochet Hook No. 7.
A yellow washcloth.
Starting at narrow edge, ch 10. 1st row: * Holding back on hook the last loop of each dc, make dc in 4th ch from hook and in next 6 ch, thread over and draw through all loops on hook (cluster made), ch 15. Repeat from * until piece reaches around outer edge of washcloth, ending with a cluster, ch 5, sl st in tip of first cluster.
HEADING … Now work around inner edge as follows: Sl st in next sp, 5 sc in same sp, * ch 3, 5 sc in next sp. Repeat from * around. Join and break off. Sew edging to washcloth.
other patterns in leaflet: