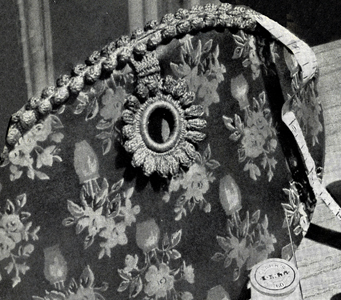 MATERIALS:
CLARK'S O.N.T. "BRILLIANT," 2 balls for crocheted edging and tabs.
Milward's Steel Crochet Hook No. 10 or 11.
¼ yard of chintz, 36-inch width.
¼ yard of lining material.
2 bone rings (¾ inch in diameter).
Sewing basket is made of 3 identical pieces as follows: Cut 3 pieces of heavy cardboard into ovals, each 10¼ x 5½ inches, tapering narrow ends to points. Cut fabric (both chintz and lining mate­rial) to correspond with cardboard, allowing about ⅜ inch all around for seams. With right sides facing, place together one piece of chintz and one of lining material and machine stitch ⅜ inch from edge along one long side of oval (from point to point). Turn right sides of fabric out, insert a piece of cardboard, turn under remaining raw edges ⅜ inch, sew together with neat over-and-over stitches. This com­pletes one piece. Finish remaining 2 pieces in same manner. With chintz on the outside, using "Brilliant," sew one long side of an oval piece to one long side of a second oval piece with neat over-and-over stitches about ¼ inch long. This 2nd piece forms base of sewing basket. Sew one side of remain­ing piece to free side of base, thus leav­ing opening directly above center of base.
CROCHETED EDGING … Make a chain to measure about 2 inches longer than one side of opening. D c in 4th ch from hook, * ch 1, 7 tr in next ch, drop loop from hook, insert hook in ch-1 preceding the 7 tr and draw dropped loop through (a popcorn st made), d c in next 3 ch. Repeat from * across until piece measures same length as opening, ending with 3 d c. Fasten off. Sew crocheted piece to edge of one side of opening. Finish other side in same way.
TABS … 1st rnd: S c closely all around bone ring (number of sts must be divisible by 4). Join with sl st in 1st s c made. 2nd rnd: Ch 3, d c in each st around. Join with sl st to 3rd ch of ch-3. 3rd rnd: Ch 3, d c in next st, * pc st in next st, d c in next 3 sts. Repeat from * around. Join. Now work in rows as follows: 1st, 2nd and 3rd rows: Ch 3, d c in next 7 sts. Fasten off at end of 3rd row, leaving a 10-inch length of thread for sewing. Thread a needle with this 10-inch length and sew last row of tab to center of edging on one side of opening. Make another tab and sew to corresponding place on other side.
other patterns in leaflet: