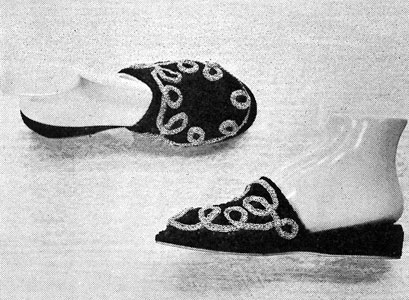 Materials:
HIAWATHA Belastraw Art. 35, or Straw-Glo Art. 67, 1 tube Main Color (M) and
HIAWATHA Metallic Corde Art. 64 or Paisley Metallic Corde Art. 69, 1 tube for Trimming (T)
HIAWATHA Wedge Soles Art. 6220
Steel crochet hooks No. 1 and No. 3
Directions are written for small size. Changes for medium and large sizes are in parentheses.
VAMP—Same as Vamp of Slippers Pattern until there are 21 (23-25) sts. Work even to 5¼" (5¾"-6¼") from beg. End off.
Trimming—With T and No. 3 hook ch 45". Row 1—Sc in 2nd ch from hook and in each ch until piece is long enough to make loop trimming as shown. Cut off remaining ch.
Finishing—Sew Vamp to sole. Sew on trimming.
other patterns in leaflet: