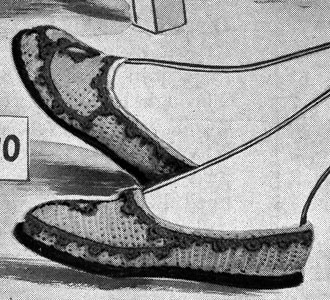 Materials:
HIAWATHA Belastraw Art. 35, 1 tube or Straw-Glo Art. 67, 2 tubes for Main Color (M) and
HIAWATHA Metallic Corde Art. 64, or Paisley Metallic Corde Art. 69, 1 tube for Trimming (T)
HIAWATHA Leather Soles Art. 6219
HIAWATHA Elastic Knitting Yarn of Lastex Art. 76, 1 spool
Steel crochet hooks No. 1 and No. 3
Instructions are written for small size. Changes for medium and large sizes are in parentheses.
Gauge: 5 sts = 1"; 6 rows = 1"
VAMP—Starting at toe with M and No. 1 hook ch 6 (8-10). Row 1—Sc in 2nd ch from hook and in each ch across 5 (7-9) sc. Ch 1, turn. Row 2—2 sc in 1st st, sc in each st to end, 2 sc in last st (2 incs). Ch 1, turn. Repeat row 2 until there are 21 (23-25) sts. Ch 1, turn. Work even to 3¾" (4"-4¼") from beg.
SIDES—Row 1—Work across 8 sts. Ch 1, turn. Work even for ¾" ending at center edge. Next row—Inc 1 st, sc to end. Re­peat inc at same edge every 6th row to 11 (12-13) sts. Work even to center back of sole. End off. Attach yarn in 8th st from other side edge of Vamp and work to correspond.
Finishing—Sew back seam. Sew slipper to sole. With M, working over triple strand of Lastex work sc around top of slipper. Adjust Lastex to fit snugly on foot.
Trimming—With T and No. 3 hook ch 24". Row 1—Sc in 2nd ch from hook and in next 5 ch, * ch 5, turn, skip 2 sc, sl st in next sc, turn, work 7 sc in ring, sc in next 3 ch, ch 3, sl st in last sc—picot made—sc in next 5 sc. Repeat from * until long enough to fit around top of slipper. Starting at center back, sew trimming around top. Make another piece and sew on Vamp as shown, making a loop at outer side of Vamp.
other patterns in leaflet: