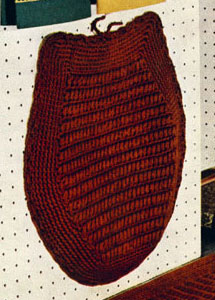 COATS & CLARK'S O.N.T. COTTON RUG YARN, Art. C.204: 4 balls of No. 428 Autumn Glow.
Clark's O.N.T. Plastic Crochet Hook No. 9.
GAUGE: 3 group sts make 1 inch; 1 group st and 1 sc row make 1 inch.
Starting at straight edge of center section, ch 21. Work as for Rust Rug Pattern until 2 rows are completed. 3rd row: 2 sc in first group st, sc in each group st across to within last group st, 2 sc in last group st. Ch 2, turn. Repeat 2nd and 3rd rows alternately until piece measures 5 inches, ending with 3rd row. Work without increasing for 2 more inches. Dec 1 st at both ends of each row until 15 sts remain—to dec 1 st, work off 2 sts as 1 st. Break off. Now work as follows: 1st rnd: Attach yarn to first st of first row of center section, 3 sc in same place, sc closely around to within opposite end of first row, 3 sc in last st of first row, sc across back. Join. 2nd to 7th rnds incl: Sc in each sc around, making 3 sc in center sc of each 3-sc group. Join. 8th rnd: * Ch 3, skip 2 sc, sc in next sc. Repeat from * around. Join and break off. Make a chain 54 inches long and draw through loops.
other patterns in leaflet: