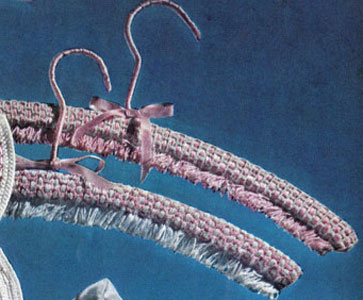 J. & P. COATS "KNIT-CRO-SHEEN," Art. A.64: 1 ball; and
J. & P. COATS RAYON CROCHET, Art. A.73: 1 ball.
Milwards Steel Crochet Hook No. 7.
1½ yards satin ribbon, ¼ inch wide, for each hanger … 2 wooden hangers.
   Starting at one short end with "Knit-Cro-Sheen," ch 24. 1st row: Dc in 5th ch from hook, * ch 1, skip 1 ch, dc in next ch. Repeat from * across. Ch 4, turn. 2nd row: * Dc in next dc, ch 1. Repeat from * across, ending with dc. Ch 4, turn. Repeat 2nd row until piece is same length as hanger. Break off.
   Cut Rayon Crochet in 3½ inch lengths. Leaving an equal amount free at each end for fringe, lace 8 lengths through first row of spaces, then lace through alternate sps of second row. Work in this manner across hanger cover. Place cover on hanger and sew edges together. Sew fringes securely in place. Trim ends evenly. Wind ribbon around hook, starting at tip. Tie into a bow at bottom.
other patterns in leaflet: