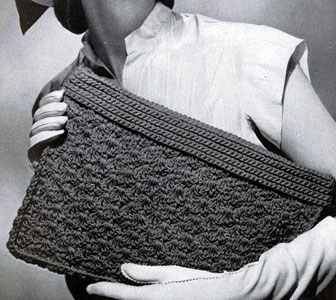 Jack Frost Straw—3 2-oz. Tubes
Interchangeable with Cordet, Soutache or Kordette
Size 4 White Crochet Hook
Ch 61. Skip first ch. Work 1 s c in each of the next 60 ch sts. Repeat for 12 rows, then work in pattern as follows: Row 1—* Skip 2 s c; 3 d c, ch 1, 3 d c in next st, skip 2 s c, 1 s c in next st; repeat from * across row (10 shell sts). Row 2—Work a shell st in the s c of row below and 1 s c in the ch 1 of shell st below (11 shells). Repeat above 2 rows for 18 rows. Work a corre­sponding piece.
GUSSET—Ch 7, turn. Work 6 s c on ch. Work back and forth in s c for 29 in. Join around 3 sides of bag with a row of s c. Fold in gusset at top. Sew the s c rows tog. at both sides. Fold down cuff. Insert zipper.
other patterns in leaflet: