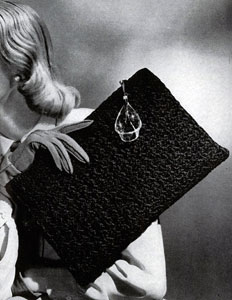 Jack Frost Ribbon Braid—3 Gross Yds.
Interchangeable with Cordet, Soutache or Kordette
Size 4 White Crochet Hook
Row 1—Ch 61, turn. Work 1 s c in 2nd ch from hook and in each of next 59 sts. Rows 2, 3 and 4—Work 1 row of s c, st for st. Row 5— * Skip 2 sts, work 1 s c and 2 d c in the 3rd st (shell st); repeat from * across row ending with a shell st. Repeat Row 5 working a shell st in each s c of previous row until piece meas­ures 8½ in. from lower edge. Work a corresponding piece. Join the 2 pieces tog. with a row of s c around 3 sides.
other patterns in leaflet: