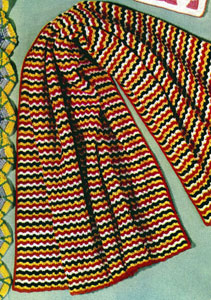 CHADWICK'S RED HEART KNITTING WORSTED, 4 Ply, Art. E.232: 12 skeins (1 oz. "Tangle-Proof" Pull-Out Skeins) each of No. 1 White, No. 12 Black, No. 230 Yellow and No. 909 Scarlet.
Clark's O.N.T. Plastic Crochet Hook No. 6.
GAUGE: 4 rows make 1 inch.
Afghan measures 45 x 60 inches.
Starting at bottom with Scarlet, make a chain 50 inches long. 1st row: 2 sc in 2nd ch from hook, * (insert hook in next ch, draw loop through) 3 times; thread over and draw through all loops on hook (2 sc de­creased), 3 sc in next ch. Repeat from * across until row measures 45 inches, ending with 2 sc in last ch. Break off. Cut off remaining chain, do not turn. 2nd row: Picking up back loop only of each sc, attach White to first sc at beginning of row, 2 sc in same place, * dec 2 sc over next 3 sc, 3 sc in next sc. Repeat from * across, ending with 2 sc in last sc. Break off. 3rd, 4th and 5th rows: Repeat 2nd row, working one row each of Black, Yellow and Scarlet. Break off. The 2nd to 5th rows incl constitute pattern. Work in pat­tern until piece measures 60 inches, ending with 5th row. Fasten all ends securely.
With Scarlet sc closely across each long side. Block to measurements.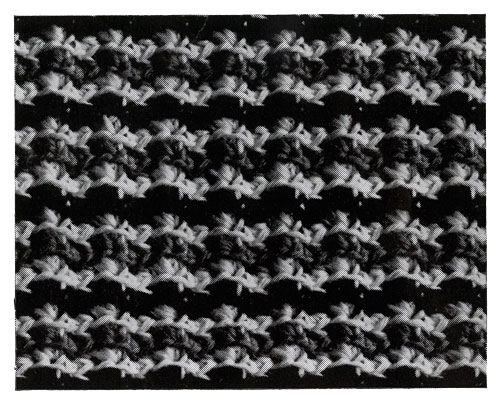 other patterns in leaflet: