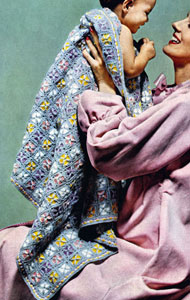 Each motif measures 1½ inches square. Afghan measures 32 x 47 inches.
CHADWICK'S RED HEART SOCK & SWEATER YARN, 3 Ply, Shrink-and-Stretch Resist Finish, Art. E.255: 10 skeins (1 oz. "Tangle-Proof" Pull-Out Skeins) of No. 802 Baby Blue; 2 skeins each of No. 1 White, No. 723 Baby Pink, No. 570 Orchid and No. 230 Yellow, or
BABY WOOL, Art. E.277, or
POMPADOUR, Art. E.278, or
NYLON, Art. E.260, or
NYLON POMPADOUR, Art. E.261, or
ORLON "FASHION YARN," Art. E.265 in colors of your choice.
Clark's O.N.T. Plastic Crochet Hook No. 2.
MOTIF … Starting at center with Orchid, ch 6. Join with sl st to form ring. 1st rnd: Ch 3, 2 dc in ring, (ch 3, 3 dc in ring) 3 times; ch 3. Join to top of ch-3. Break off. 2nd rnd: Attach Baby Blue to same place as sl st, sc in same place, sc in next 2 dc, * working over ch-3 and into ring, make dc, ch 3 and dc (corner); sc in next 3 dc. Repeat from * around. Join and break off.
Make 150 motifs of each color, alternating Orchid, Pink, Yellow and White on first rnd and always using Blue on second rnd.
To Join Motifs: First Strip: Sew 10 White and 10 Yellow motifs together alternating colors, starting with White and ending with Yellow.
Second Strip: Sew 10 Pink and 10 Orchid motifs together, starting with Pink and ending with Orchid.
Sew Second Strip to First Strip. Continue in this manner, alternating strips, until 30 strips have been completed, ending with Second Strip.
BORDER … 1st rnd: With Blue, sc in back loop of each st around, making 3 sc in each corner. Join. 2nd rnd: Ch 3, dc in back loop of each sc around, mak­ing 3 dc in center sc of each corner. Join. 3rd rnd: Sc in back loop of each dc, making corners as before. Join and break off.
WEAVING … Cut 2 strands of Orchid slightly longer than outer edge of Afghan. Weave these strands through dc rnd of border, going over 2 dc and under 2 dc. Fasten ends securely. Cut 2 strands of Pink and weave through same dc rnd, going over dc's that were gone under previously. Weave a row of White and a row of Yellow through same place. Block to measure­ments given.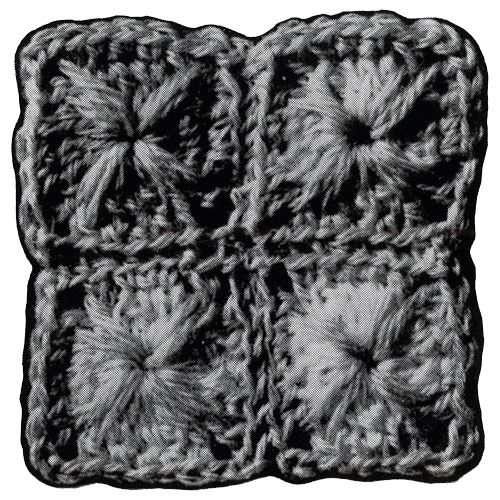 other patterns in leaflet: