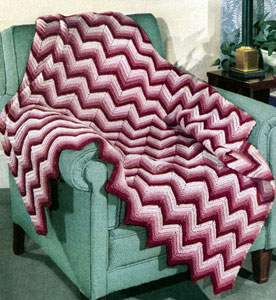 Approximately 52 x 75 Inches
MATERIALS: Chadwick's Red Heart Knitting Worsted, 12 balls (1 oz. balls) each of Light Rose, Wild Rose, Mid Rose, Deep Rose and Wine Rose … Clark's O.N.T. Plastic Crochet Hook No. 6.
STRIP (Make 11) … Starting at narrow end with Light Rose, ch 22. 1st row: Sc in 2nd ch from hook, sc in next 9 ch, 3 sc in next ch, sc in next 10 ch. Ch 1, turn. 2nd row: Skip 1 sc, sc in back loop of each sc to center sc of 3-sc group, 3 sc in back loop of center sc, sc in back loop of each sc to last 2 sc, skip 1 sc, sc in back loop of last sc. Break off Light Rose. Attach Wild Rose. Ch 1, turn. Repeat 2nd row, working 2 rows of Wild Rose, 2 of Mid Rose, 2 of Deep Rose and 2 of Wine Rose. These 10 rows constitute stripe pattern. Work in pattern until piece measures 75 inches, completing pattern stripe. Break off. Sew strips together neatly on wrong side, matching colors.
other patterns in leaflet: