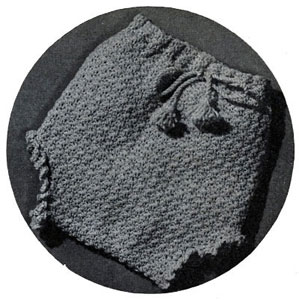 MATERIALS:
CHADWICK'S RED HEART BABY POM­PADOUR, 3 balls (¾ oz. balls).
Crochet Hook, Size G.
GAUGE: 9 sts make 2 inches; 4 rows make 1 inch.
Starting at front waist, ch 47 loosely to measure 10½ inches. 1st row: Sc in 2nd ch from hook, * dc in next ch, sc in next ch. Repeat from * across, ending with a dc (46 sts). Ch 1, turn. 2nd row: Sc in 1st dc, * dc in next sc, sc in next dc. Re­peat from * across, ending with a dc (46 sts). Ch 1, turn. Repeat 2nd row until piece measures 6½ inches.
To shape for leg openings, keeping continuity of pattern, dec 1 st at both ends of each row until 32 sts remain—to dec, work off 2 sts as 1 st. Now dec 1 st at both ends of every other row until 28 sts remain. Work straight until piece measures 9½ inches in all. Mark this point in work as center of crotch. Work back half of soaker to correspond with front half, making increases to corre­spond with decreases—to inc, work 2 sts in 1 st. When there are again 46 sts on row, work straight for 6½ inches. Fasten off.
Fold piece in half and sew seams from waist to top of leg openings.
EDGING ... 1st rnd: With right side facing, attach yarn at center of crotch at leg opening. Work sc evenly around leg opening. Join with sl st in 1st sc. 2nd rnd: * Ch 3, sc in 3rd ch from hook, sc in next 2 ch. Repeat from * around. Join and fasten off.
CORD ... Cut four 3-yard strands of yarn. Twist these strands tightly; then double the twisted strands and give them another twist in the opposite direction. Knot the free end and trim. Pass cord through crocheted fabric ¾ inch from waist edge and tie in a bow at front.
TASSEL (Make 2) ... Cut a piece of cardboard 2 inches wide and 3 inches long. Lay a 6-inch strand of yarn along length of cardboard. Wind yarn around width of cardboard 40 times. Break yarn. Tie ends of 6-inch strand and slip tassel off cardboard. Wind yarn several times around tassel strands close to top. Cut loops at bottom and trim to 1-inch length. Fasten a tassel to each end of cord.
other patterns in leaflet: