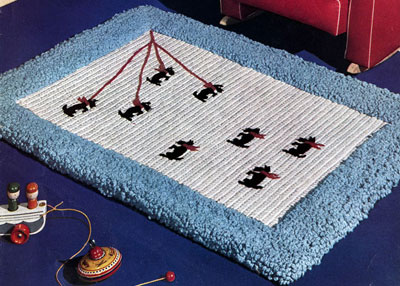 30 x 40 Inches
MATERIALS: Clark's O.N.T. Cotton Rug Yarn, 23 balls each of Cream and Blue … Clark's O.N.T. Rug Hook, Size G … ¼ yard each of red and black felt.
Starting at one side, with double strand of Cream make a chain 30 inches long. 1st row: Sc in 2nd ch from hook and in each ch across, until row measures 24 inches. Cut off remaining chain. Ch 1, turn. 2nd row: Sc in each sc across. Ch 1, turn. Repeat 2nd row until piece measures 34 inches. Break off.
BORDER … 1st rnd: With single strand of Blue, work a row of sc all around outer edges, making 3 sc in each corner. Hereafter pick up only the back loop of each sc throughout. 2nd rnd: Sc in each sc around, making 3 sc in center sc of each 3-sc group at corners. Repeat 2nd rnd 8 more times. Sl st in next st. Break off.
LOOPS … With a single strand of Blue, attach yarn to first free loop of first rnd of Border, * ch 5, sc in same loop, ch 5, sc in next loop. Repeat from * around, until Border is completely covered with loops. Line Border on wrong side with unbleached cotton to keep it flat.
Cut 8 animals according to diagram and sew in place as in illustration. Cut 4 strips of red, ⅜ inch wide, for leashes in varying length, and sew to 4 ani­mals (see illustration). Sew on a small white button for each eye.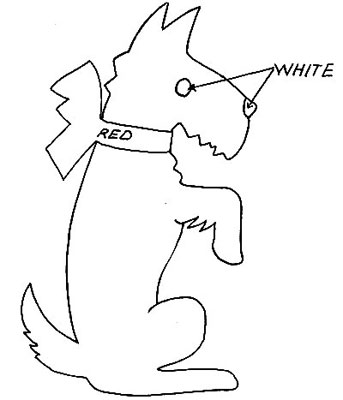 other patterns in leaflet: