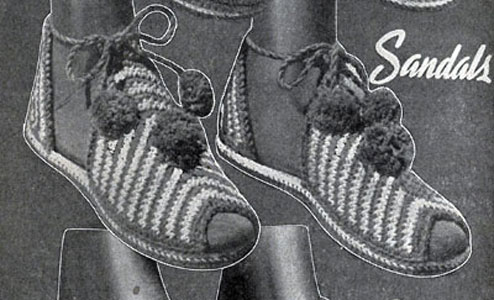 Here are Boots and Slippers for use around the house that will permit you to add to your wardrobe • not tax the facilities of hard pressed manufacturers. The soles are double layers, of Enterprise Yarn, crocheted firm and heavy • they may be sized with lacquer (like the back of a rug) or stiffened with a layer of fiber board between the 2 pieces of the sole • cut the board to fit after crocheting. No. 1 Steel Crochet Hook used for all shoes.
SOLES: These slippers all are to be crocheted on the same sole. Adult or children's soles are alike except for changes where fewer sts are required for the smaller sizes,—use figures for child's sizes at points where indicated in instructions.
Measure length of foot—plus ¼"—make a chain 2½" shorter (childs; 2" shorter) than measure­ments. 2 sc in second st from hook, sc in each st to center ch, hdc in 4 sts (childs; 2 sts) dc to fourth st (childs; third st) from end, hdc in 2 sts (childs; in next st) 5 sc in end st. On other side of chain, hdc in 2 sts (childs; in next st) dc in each st opposite dc on other side, hdc in 4 sts, (childs; 2 sts) sc to end. In both loops, 3 sc in first sc, 2 sc in next, and continue with 5 rows (childs; 4 rows) of sc around. Increase 3 sc around toe in each row, with 2 sc between inc. Inc 3 sc at heel in each row, with sc between increases.
ROW 7: (Childs; Row 6) 1 sl st in both loops of each sc. Fasten off. Make a second piece, to be exactly same size and sew together back-to-back thru 1 loop of each sc on edge.
SANDALS
MATERIALS: 1 ball White and 2 balls Apple Green (or other colors).
Make under-sole Green, top-sole White. Sew together with Green.
VAMP: In Green, ch 18, skip last st, sc in next 8 sts, 3 sc in next st, sc in 8 sts.
ROW 2: Draw White thru loop (1 ch), and working over Green, * turn and thru both loops, skip last sc, sc around, with 3 sc in center st.
ROW 3: Draw Green up taut and thru loop, and repeat last row from *. Continue, alternating White and Green rows, for 10 Green rows. Fasten off White. Work down side with 1 sc in each row, with 2 sc in every second rib. Across toe, (ch 1, sl st in next second st) repeated. Sc up side as on other side. Across top, (ch 1, sl st in next st) to first of 3 sc in center, (ch 7, sl st in next sc) twice, (ch 1, sl st in next sc) to corner. Fasten off. Sew to edge of White sole thru 1 loop of each st, leaving 9 sts free on toe.
HEEL: In Green, ch 2, 3 sc in starting st, join White, turn, 2 sc in last sc, 3 sc in next, 2 sc in next. Join Green, turn, 2 sc in first and last sc, sc across with 3 sc in center sc. Repeat this row alternately in White and Green thru third White row. Next 2 rows, omit widening in end sts. Next 3 rows, widen in end sts as before. Work sc across straight edge, (ch 1, sl st in next sc) around curve. Sew straight edge around heel.
TIE: Cut a Green strand 3 yards 4" long, (double and twist tightly) twice. Tie a knot in loose end. Tack center to top of heel. Lace ends thru loops at top of vamp and tie. Finish ends with pom pons—make as in Pirate Boots. Make two more poms and sew to slipper above toe opening.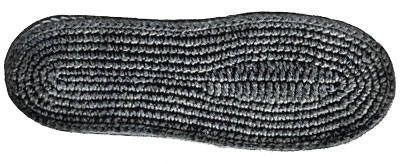 other patterns in leaflet: