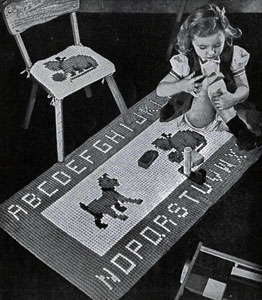 So simple to learn from this alphabet rug • quick to crochet, in sturdy puff stitch with Enterprise Yarn • will give years of service • crochet the matching chair covers, too!
MEASUREMENTS AND MATERIALS:
5 puffs equal 2 inches.
30 puffs equal 1 foot.
Approximately 2 rows equal 1 inch.
25 rows of puffs equal 1 foot.
Each square fool of crochet (approximately 750 puffs) will require about 2¼ 125-yard balls of Enterprise Yarn (about 330 puffs to the ball).
This alphabet rug, approximately 27" x 44", requires:
10 balls Light Blue
7 balls Ivory
1 ball Medium Blue
1 ball Dark Blue
Steel crochet hook, No. 1
The above are the colors shown on chart. Of course, the rug will be equally beautiful if shadings of rose, or any other colors, are substituted for the blue.
Simple cross stitch embroidery motifs work up into beautiful rugs, fable mats, hot pot holders, etc., in puff stitch. Puff stitch crochet follows the same procedure, row after row, to make any article. It is only necessary to change colors to insert the pattern at the point shown in the chart. Each square on the chart is a puff stitch—symbols indicate the colors that form the design.
Colors needed to work back in the next row should be dropped and left hanging when starting a new color for the design. As many as 3 or 4 balls can be handled without confusion. Break thread and rejoin if more colors are needed.
With only two colors in a row the yarn can be worked over to carry through instead of breaking or dropping. More than one thread carried through will cause the work to bulge. Before using color again, pull up covered thread tight (but not so that work is distorted).
The border is 13 puffs wide, Light Blue for background, with the alphabet in Ivory. Center panel is in Ivory with figures in three shades of Blue.
TO START RUG: Working across bottom row of chart with Light Blue, ch 224. Skip last stitch, 223 sc on chain.
ROW 2: Chain 1, turn, sc in last sc, * 2 dc in next sc, holding final loop of each dc on hook, thread over and pull through all 3 loops on hook at once (1 puff stitch made), sc in next sc, pulling it down tight. Let the puff stitch puff out on back of work, which will be the right side. Repeat from * across (111 puffs) to measure approximately 44" for length of rug.
NOTE: Be careful not to drop or skip stitches. Puffs should be in even rows across rug, exactly above the puff in previous rows.
ROW 3: Ch 1, turn, sc in last sc (sc in next puff, sc in next sc), repeat across (223 sc). Repeat Rows 2 and 3, twice.
4th PUFF ROW: Starting at left of chart, make 5 puffs in Light Blue. In sc following final puff, hold the 2 loops of it on hook, drop Light Blue, and draw loop of Ivory through the 2 loops completing sc.. Each color is joined in this way: through sc fol­lowing puff. When either color is used at close intervals, the color dropped is carried along covering it up until again used in same row. Continue with the letter N on chart, work over starting end of Ivory and Blue, make 1 puff in Ivory, 3 in Light Blue, 1 in Ivory, 3 in Blue, 5 in Ivory, etc., following the chart across for the bottom row of alphabet, to end of the row. Ch 1, turn, 1 sc in Light Blue in each Blue stitch, drop Blue, with Ivory make 1 sc in each Ivory st, repeat across, changing colors above previous row, where shown in chart. From this point follow chart for the balance of the border to center panel.
PUFF ROWS 14-15-16-17 (start of center panel): Make 13 puffs with Light Blue (for border), 85 puffs in Ivory (center panel), 13 puffs in Light Blue. Work sc rows as before.
PUFF ROW 18: Make 13 puffs in Blue, 17 puffs in Ivory. The next puff is worked in two colors, to start dog design, and is called "½ puff stitch" (indicated by line drawn diagonally across squares on chart). Work same as previous puffs except when first dc of this puff is complete, pick up Medium Blue and draw loop through one loop of Ivory on hook, working over starting end of Blue and Ivory, carrying it along, thread over, dc in same sc with last dc, holding final loop of last dc on hook, thread over and draw through all 3 loops on hook at once, sc in next sc, this completes ½ puff (hps). All hps are worked in same way, except for change of colors as indicated in chart. Join Ivory and follow chart to complete row.
From this point to end of rug follow chart. Finish ends with a row of single crochet in Light Blue, putting 2 sc in end of each puff row.
MATCHING CHAIR COVERS: Materials: 1 ball Light, Medium and Dark Blue Enterprise Yarn, 3 balls Ivory will be needed for two pads.

The cover is approximately 11½" wide by 10" deep (30 puffs by 25 puff rows). Larger sizes may be made by adding rows above and below the design and at each side, or by adding a colored border. Puffs may be omitted at corners to make pad fit around back of chair if desired. A border and side band may be added as on the seat covers of the Trailing Vine design.
THE KITTEN SEAT PAD shown takes in 4 rows of puffs each side of head and tail; the front edge is the first row of center panel in rug chart, and top extends 3 rows above head of kitten.
TO MAKE THE PUPPY SEAT PAD crochet 2 puff rows below feet and above tip of ears; with 3 rows at each side of the design.
Before starting to crochet, pencil in on the chart the part to be crocheted. If border is to be made (as on the Trailing Vine design) allow for ⅝" border on all sides. Starting chain is made 2 ch longer than double the number of puffs in row, and sc on chain is always one sc less.
Crochet tightly for a firm, solid pad. Embroider mouth and whiskers. Press the finished pad, line and pad to desired thick­ness. Attach ties at each corner—those pictured are twists of yarn. Cut strands five yards long, take two pieces, fasten at one end and twist together, very tightly; fold in center and twist again in opposite direction. Cut in 15" length, tie a knot about 1" from each end and tack to corners of pad.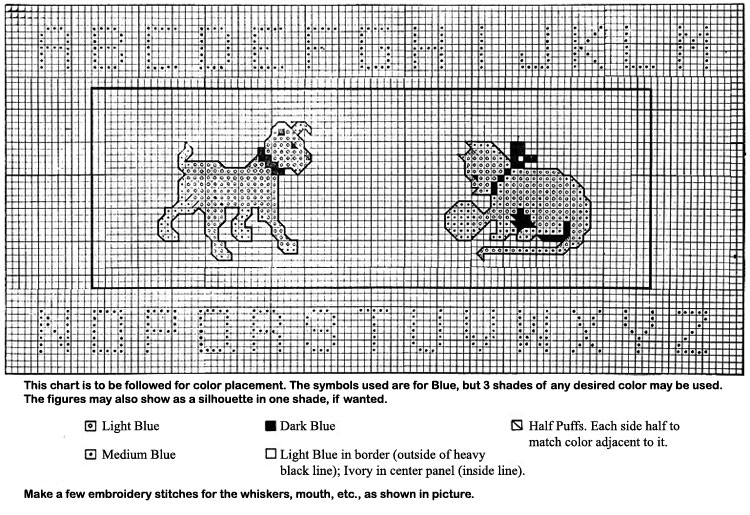 other patterns in leaflet: