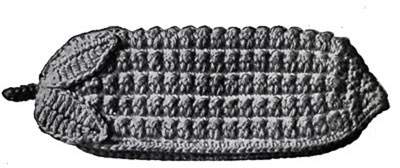 MATERIALS: Each holder will take 60 yards Gold, 25 yards Ivory and about 12 yards Green. Size approximately 8" long, without leaves, 2¾" wide.
In Ivory, ch 34, 33 sc on chain.
ROW 2: Draw Gold thru loop on hook (l-ch), turn and working over Ivory, sc in last sc, * 2 dc in next, holding the last loop of each on hook, thread over and pull through all 3 loops on hook at once (a puff st), sc in next, pulled down tightly so puff st puffs out on back (right side). Repeat from * 15 times. Keep thread not in use pulled up taut thru sts so it will not loop on back. Work should now measure 5¾" long.
ROW 3: Drop Gold, draw Ivory thru loop, turn, and working over Gold, sc in last sc, (sc in puff st, sc in next sc) to end. Repeat Rows 2 and 3 nine times. Fasten off.
END: In Gold and making sts very tight, work 20 sc across one end. * Ch 1, turn, sc in last 2 sc, (skip 1, sc in next 2 sc) across. Repeat from * twice. Ch 1, turn, sc in last sc (skip 1 sc, sc in next sc) 3 times. Ch 1, turn, skip last 3 sc, sl st in end sc. Fasten off. Repeat on other end, but do not cut, ch 1, turn and work a row of sc all around. Fasten off. Piece now measures approx. 7½" long—5¼" wide.
LEAVES: In Green, ch 13, skip last st, (1 sc, 1 hdc, 7 dc, 1 hdc and 1 sc) on chain, 3 sc in end st. On other side of chain make (1 sc, 1 hdc, 7 dc, 1 hdc and 1 sc), sl st in first sc, ch 6, 5 sc on chain, sl st in end of leaf. Fasten off. Make 3 more leaves but omit stems. Tack leaves together into pairs, place pairs back-to-back and tack at base of stem. Slip over one end of holder and tack down.
other patterns in leaflet: