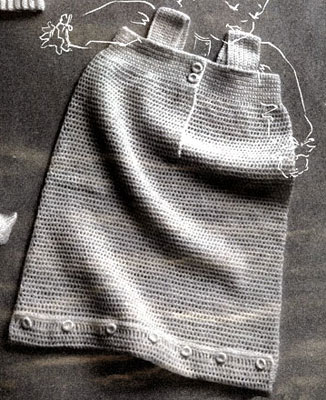 Directions are for 6-months size. Changes for 1 year size are in parentheses.
MATERIALS:
NOMOTTA Non-Shrink, Mothproof Baby Wool or Pompadour
4 1-oz balls Main Color (MC)
Small amount of Contrasting Color (CC)
1 steel crochet hook each of size 1 and 2
GAUGE: 6 dc (sts) = 1 inch; 4 rows = 1 inch
7 sc (sts) = 1 inch; 6 rows = 1 inch
YOKE: Using size 2 hook, Ch 136 (140). Row 1: Work 1 sc in 2nd ch from hook, then 1 sc in each of the following 134 (138) chains: 135 (139) sts. Ch 1, turn. Row 2: Work 1 sc in each st across. Ch. 1, turn. Row 3: Work 1 sc in each of first 2 sts, work a Buttonhole as follows: ch 3, skip next 3 sts, 1 sc in each st to end of row (this is right front edge). On next row, work 3 sc under the (ch-3) loop in row below. Repeat this buttonhole on 9th row once more. Continue in sc until yoke measures 1¾ (2) ins from start working another buttonhole in 9th row. Ch. 2, turn.
BODY: Change to size 1 hook and work in dc increasing 12 sts evenly spaced across first row; 147 (149) sts.
NOTE: Always insert hook in spaces between the dc's of row below, thus forming a mesh pattern.
Work straight until 6½ (7) ins from start. Break yarn.
Lap Over: Lap first 6 sts of Right Front (buttonhole side) over first 6 sts of Left Front and pin both sides together. Attach yarn at underarm. Ch 2 and work in dc all around, working through both thicknesses of the 6 sts of lap-over. Work around in pattern until 16½ (17) ins straight down from end of yoke or desired length.
Bottom Cuff: Divide sts in half and work across back sts only for 7 rows. Ch 3, turn. Work 1 row of Treble Crochet. Ch 1, turn, work 1 row of sc.
Shoulder Straps: Make 2. Using size 2 hook, Ch 31 (35). Work back and forth in sc until strap measures 1½ ins.
FINISHING: With CC and size 2 hook, work 1 row of sc around all outside edges and down center front opening and around straps. Pin straps on yoke, then sew in place. Sew buttons on left front and 7 (8) buttons along bottom of front about 1 inch from edge, using spaces between the Treble Crochet as buttonholes. Buttons: Make 9 (10). With CC and size 2 hook, Ch 4, join with a slip-st to form a ring. Work 14 dc firmly in ring, then work 1 row of sc around, end with a slip-st in first sc of round. Run yarn through center of button and fasten leaving an end for sewing.
other patterns in leaflet: