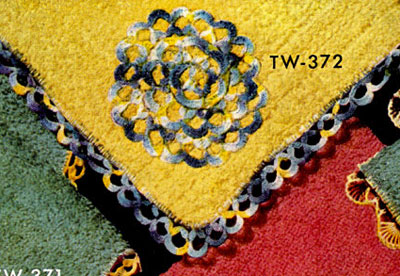 MATERIALS:
J. & P. Coats Tatting-Crochet, Size 70: 1 ball of No. 157 Blended Royal and Yellow.
Milward's Steel Crochet Hook No. 14.
A yellow washcloth 13 inches square.
EDGING ... 1st rnd: Attach thread to any corner of washcloth, sc closely around. Join. 2nd rnd: Ch 4, holding back on hook the last loop of each tr, make 3 tr in same place as sl st, thread over and draw through all loops on hook (cluster made), * ch 15, make a 4-tr cluster in same sc, skip ½ inch on washcloth, make a 4-tr cluster in next sc. Repeat from * around. 3rd rnd: In each loop around make 3 sc, half dc, 13 dc, half dc and sc. Join and break off.
MOTIF ... Make a chain 12 inches long. 1st row: Make a 4-tr cluster in 5th ch from hook, ch 15, 4-tr cluster in same ch as last cluster was made, * skip next 4 ch, in next ch make 4-tr cluster, ch 15 and 4-tr cluster. Repeat from * across. Break off. 2nd row: Attach thread to tip of first cluster made. Work as for 3rd rnd of Edging. Break off. Sew to washcloth.