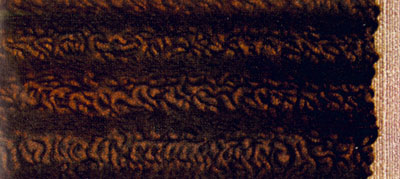 Suggested pattern for Bath Mats
Bath Mat requires approximately 24 balls of "Speed-Cro-Sheen" with Milwards Steel Crochet Hook No. 2/0 (double zero).
Starting at narrow end, ch 131 to measure 22 inches. 1st row: Sc in 2nd ch from hook and in each ch across. Ch 4, turn. 2nd row: Picking up back loop only, skip first sc, tr in each sc across. Ch 1, turn. 3rd row: Insert hook in back loop of first tr and in free loop of first sc on preceding row, sc in same place, * make an sc through back loop of next tr and free loop of next sc. Repeat from * across. Ch 1, turn. 4th and 5th rows: Sc in each sc across. Ch 1, turn. At end of 5th row, ch 4, turn. Repeat 2nd to 5th rows incl until piece measures 34 inches, ending with 3rd row.
BORDER … Work as for Bath Mat & Scrap Basket Cover Pattern.
other patterns in leaflet: