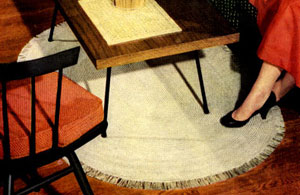 A gem of a rug, made of simple single crochet, that will wash and wear for many years to come.
40 x 63 inches including fringe
COATS & CLARK'S O.N.T. "SPEED-CRO-SHEEN" MER­CERIZED COTTON, Art. C.44: 32 balls of No. 61-D Nu-Ecru, and
CLARK'S O.N.T. COTTON RUG YARN, Art. B.204: 16 balls of No. 1 White.
Milwards Steel Crochet Hook No. 2/0 (double zero).
Starting at center, make a chain 18 inches long. 1st rnd: Working over 6 strands of Rug Yarn and leaving 1 inch free at end of Rug Yarn, make 6 sc in 2nd ch from hook, sc in each ch across, 6 sc in last ch; working across opposite side of starting chain make sc in each ch across. After each rnd, place rug on flat surface and pull rug yarn taut to keep work flat. 2nd rnd: 2 sc in each of first 6 sc (6 sc increased), sc in each sc around, making 2 sc in each of 6-sc group at other rounded end. 3rd rnd: Sc in each sc, increasing at rounded ends as necessary to keep work flat. Repeat 3rd rnd until rug is 34 inches wide. On last rnd mark center of long side on each side of rug, work for 10 more inches past marker (to end a rnd make sc in next 3 sc, sl st in next 3 sc). Break off. Cut Rug Yarn, leaving 1 inch free.
Now work in short rows as follows: 1st row: About 1 inch from end of last rnd, make a sl st in next 3 sc, sc in next 3 sc, then work over 6 strands of rug yarn as before (increasing as necessary around rounded end of rug) to corresponding position on opposite side, ending with 3 sc and 3 sl sts as before. Break off. Cut off rug yarn. 2nd to 5th rows incl: Make another short row, starting 3 inches above previous row. Make short rows on other rounded end to correspond. Now work one complete rnd. Repeat the last 5 short rows on both ends and a complete rnd 2 more times. At end of last complete rnd, join and break off.
FRINGE … Cut one strand of thread 3½ inches long. Double these strands to form a loop. Insert hook in any sc on last rnd and draw loop through, then draw loose ends through loop and pull up tightly. Make a fringe in each sc around. Trim ends evenly.
Block to measurements.
other patterns in leaflet: