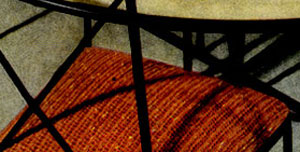 COATS & CLARK'S O.N.T. "SPEED-CRO-SHEEN" MER­CERIZED COTTON, Art. C.44: 20 balls of No. 51 Spice, and
J. & P. COATS "KNIT-CRO-SHEEN" METALLIC, Art. A.64: 20 balls of No. M.51 Spice.
Milwards Steel Crochet Hook No. 2/0 (double zero).
GAUGE: 4 sts make 1 inch; 3 rows make 1 inch.
FABRIC PIECE (Make 4) … Starting at one side with 1 strand each of "Speed-Cro-Sheen" and "Knit-Cro-Sheen," make a chain 4 inches longer than side of chair seat. 1st row: Half dc in 3rd ch from hook, half dc in each ch across. Ch 2, turn. 2nd row: Hall dc in each half dc across. Ch 2, turn. Repeat 2nd row until piece is square. Break off. Upholster chair seat with fabric.
other patterns in leaflet: