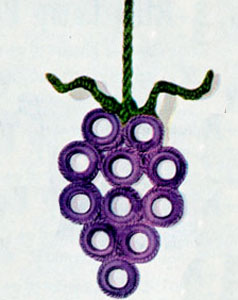 J. & P. COATS "KNIT-CRO-SHEEN," Art. A.64: 8 yards of No. 48 Hunter's Green: and
J. & P. COATS BEST SIX CORD MERCERIZED CROCHET, Art. A. 104, Size 30: 14 yards of No. 18-A Shaded Purples.
Milwards Steel Crochet Hooks No. 7 and No. 10.
11 bone rings, ½ inch in diameter.
With Shaded Purples and No. 10 hook, sc closely around each bone ring. Join and break off. Sew rings together to form a bunch of grapes as illustrated.
CORD ... Cut 4 strands of Hunter's Green, each 1 yard long. Twist these strands tightly, double and give them a twist in the opposite direction. Knot free ends. Sew Cord in place.
LEAF (Make 2) ... With Hunter's Green and No. 7 hook, ch 15, 2 sc in 2nd ch from hook and in each ch across. Break off. Sew a leaf to each side of cord.
other patterns in leaflet: