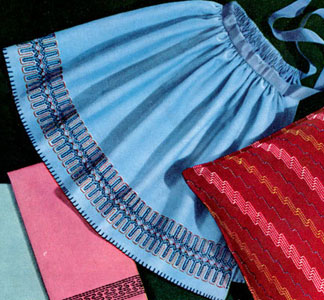 J. & P. COATS or CLARK'S O.N.T. SIX STRAND EM­BROIDERY FLOSS, Art. A. or B.11: 6 skeins each of No. 12 Black and No. 46-B Beauty Rose.
Milwards Tapestry Needle No. 19.
1½ yards of huck toweling, 16 inches wide.
1¼ yards of matching grosgrain ribbon, 1 inch wide.
Turn under narrow hem along two short sides and sew in place.
Design is worked on horizontal loops, 1½ inches up from lower edge. Follow Diagram 3, repeating from A to B for design. Turn under selvedge at lower edge and work blanket st (Fig. 1) with Black along edge. With Beauty Rose whip st (Fig. 2) along blanket st. Gather top edge in to 16 inches and sew grosgrain ribbon in place for waistband, leaving 14½ inches free at each side for ties.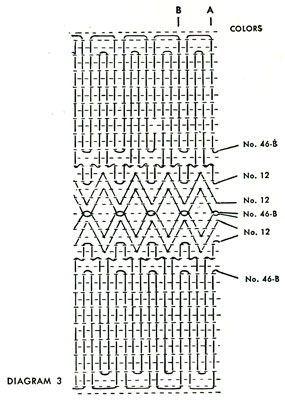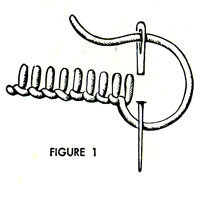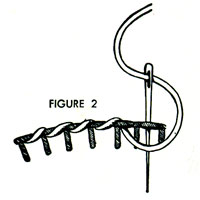 other patterns in leaflet: