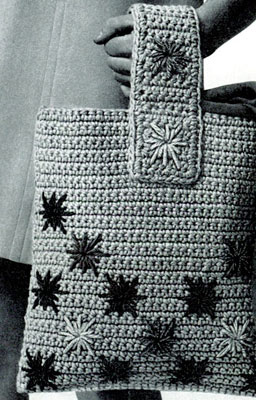 Materials Required:
AMERICAN THREAD "AUNT LYDIA'S" HEAVY RUG YARN
5—70 yd. skeins Chartreuse
1—70 yd. skein each Moss, Lilac, and Folly Pink
Aluminum Crochet Hook Size H OR ANY SIZE HOOK WHICH WILL RESULT IN STITCH GAUGE BELOW
½ yd. Buckram
½ yd. Lining Material
GAUGE: 3 sts = 1 inch
(MAKE 2): With Chartreuse ch 39, 1 s c in 2nd st from hook and in each re­maining st of ch, ch 1 to turn all rows.
2nd ROW: 1 s c in each sc. Repeat last row 41 times, cut yarn.
EMBROIDERY: With wrong side of first row facing, embroider design with straight sts as illustrated working all sts from center. Embroider remaining designs spac­ing as illustrated.
HANDLE: With Chartreuse, ch 8. Work same as bag for 48 rows, cut yarn. Em­broider designs as illustrated. Then with Chartreuse work s c around entire handle working 3 s c in each corner, join, cut yarn.
FINISHING: Block all sections. Sew 3 edges of bag tog.
LINING: Cut buckram same size as bag. Overcast 3 edges tog. Insert in bag. Cut lining ½ inch larger than bag. Sew 3 edges tog. Insert in bag. Place free edge over top of buckram. Sew in position to bag. Sew handle to bag as illustrated.
other patterns in leaflet: