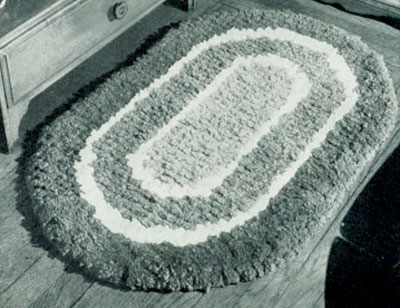 Materials Required: 1 STAR Rug Foundation No. 516
If you use
STAR Rug Yarn, Article 44
8 skeins National Blue No. 16
5 skeins Medium Blue No. 14
3 skeins Light Blue No. 13
2 skeins White No. 1
OR
8 skeins Old Rose No. 34
5 skeins Light Rose No. 33
3 skeins Pink No. 31
2 skeins White No. 1
If you use
AUNT LYDIA Heavy Rug Yarn, Article 235
5 skeins National Blue No. 216
3 skeins Medium Blue No. 214
2 skeins Light Blue No. 213
2 skeins White No. 21
OR
5 skeins Old Rose No. 234
3 skeins Light Rose No. 233
2 skeins Pink No. 231
2 skeins White No. 21
If you use
STAR Cotton Yarn, Article 75
7 skeins National Blue No. 16
5 skeins Medium Blue No. 14
3 skeins Baby Blue No. 13
2 skeins White No. 1
OR
7 skeins Old Rose No. 34
5 skeins Light Rose No. 33
3 skeins Pink No. 31
2 skeins White No. 1
and 3 Spools of AUNT LYDIA Carpet and Button Thread
An ember-glowing fire on a brisk October night
Will dance inside your fireplace and cast a welcome light,
But even if there is no hearth to draw yourself up near
You'll have this Fireside design to lend an air of cheer.
On the rug foundation you will find dots into which color tufts should be sewn with Aunt Lydia Carpet and Button Thread.
After you have learned how to make a tuft from the simple directions on the pattern book page you are all set to start on whichever rug design you please.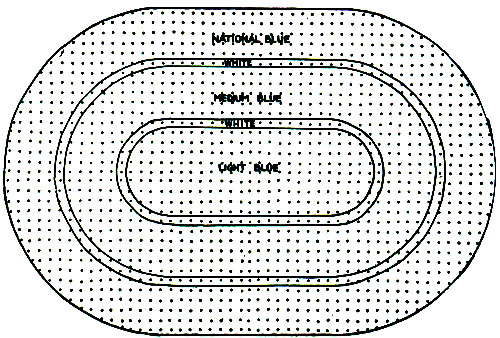 other patterns in leaflet: