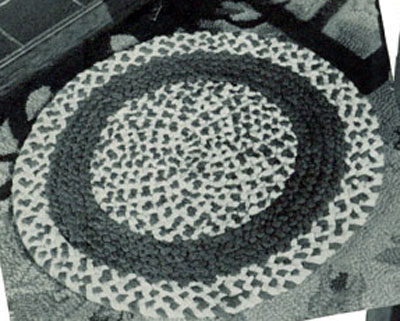 Round Rug measures about 25 inches in diameter …*Oval Rug measures about 18 x 27 inches
Materials Required: American Thread Company STAR Rug Yarn, Article 44, 70 Yard Skeins, STAR Cotton Yarn, Article 75, 100 Yard Skeins, or AUNT LYDIA Rug Yarn, Article 235, 70 Yard Skeins
2 skeins Yellow
5 skeins Blue
2 skeins White
Tapestry Needle
Take off 2 or 3 yards of yarn from each skein to be used for sewing. Divide a skein of yarn, Article 44 or Article 235 into 7 equal parts, then wind a strand of yarn from each of the 7 parts into a ball being careful to keep yarn smooth. Wind remainder of skeins in same manner. If Article 75 is used work in same manner dividing skeins into 10 equal lengths.
Take 1 ball each of Yellow, White and Blue, tie to­gether at top with a strand of yarn and braid strands together (7 strands of each Color), tie braid together at end in same manner. Starting at center, lace braids together taking up entire 7 strands of each Color. Use entire 3-Color braid for center section of rug allowing 2 inches at end of braid to be pulled through braids on wrong side and fastened securely. Then work another braid in same manner in Blue. Lace 4 rows of Blue to center section and fasten in same manner. Work another braid using the 3 Colors and lace 3 rows in same manner.
*If an oval rug is desired work in same manner having center braid about 11 inches long, working 1st 6 rows in 3 Colors, 4 rows in Blue and 3 rows in 3 Colors.
other patterns in leaflet: