Materials Required: 1 STAR Rug Foundation No. 504
If you use
STAR Rug Yarn, Article 44
4 skeins Black No. 58
1 skein Red No. 52
6 skeins Medium Blue No. 14
11 skeins Cream No. 3
If you use
AUNT LYDIA Heavy Rug Yarn, Article 235
2 skeins Black No. 258
1 skein Red No. 251
4 skeins Medium Blue No. 214
7 skeins Cream No. 23
If you use
STAR Cotton Yarn, Article 75
3 skeins Black No. 58
1 skein Red No. 52
5 skeins Medium Blue No. 14
10 skeins Cream No. 3
and 3 Spools of AUNT LYDIA Carpet and Button Thread
Each color tuft should be sewn into the dot indicated with Aunt Lydia Carpet and Button Thread.
Making a rug is child's play after you've followed the simple directions on the pattern book page for tufts.
Here is a lovey for a child's room. The kids will delight in cuddling their toes on Scotty's back on cold, frosty mornings. Make his bow red as indi­cated or be gay with green or yellow, Star Rug Yarns are so colorful.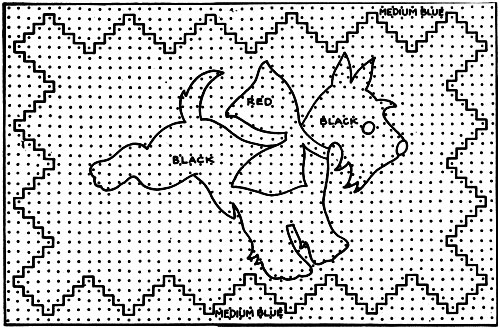 other patterns in leaflet: