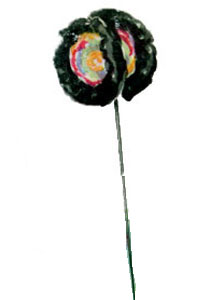 Use J. & P. COATS or CLARK'S O.N.T. PEARL COTTON, Size 5.
One ball of any color.
Where more than one color is used, a ball of each color is required.
Follow picture for trimmings.
Steel Crochet Hook No. 6.
CIRCLE (Make 3) ... With Varie­gated, ch 2. Work exactly as Hair Pin to 4th rnd incl. Attach Black and work 5th rnd but complete it.
Cap ... With Black, ch 2. 1st rnd: 4 sc in 2nd ch from hook. 2nd rnd: 2 sc in each sc around. Now work sc in each sc around until piece covers head of hat pin. Break off, leaving an 8-inch length. Slip head of pin into Cap and sew up opening. Sew Circles to form a 3-sided piece. Insert pin and sew Circles to Cap.
other patterns in leaflet: