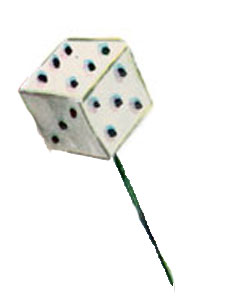 Use J. & P. COATS or CLARK'S O.N.T. PEARL COTTON, Size 5.
One ball of any color.
Where more than one color is used, a ball of each color is required.
Follow picture for trimmings.
Steel Crochet Hook No. 6.
DICE—Side (Make 6) ... 1st row: Ch 8, sc in 2nd ch from hook, sc in each ch across. Ch 1, turn. 2nd to 8th rows incl: Sc in each sc across. Ch 1, turn. Break off. Cat 6 cardboard pieces this size. Insert pin through one cardboard piece and one Side. Sew Sides to form a cube, leaving an opening. Insert cardboards; stuff. Sew up opening. Make French knots for dots.
other patterns in leaflet: