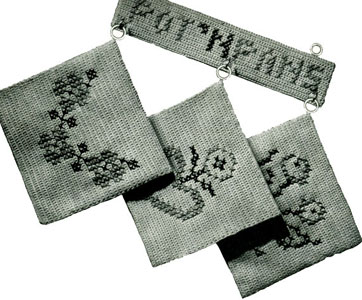 MATERIALS: J. & P. COATS KNIT-CRO-SHEEN, 2 balls of Ecru.
CLARK'S O.N.T. or J. & P. COATS SIX STRAND EMBROIDERY FLOSS, 2 skeins each of 2 colors.
Milward's Steel Crochet Hook No. 7.
5 bone rings.
3 screw hooks.
This amount is sufficient for 3 pot holders and a rack.
Make an 8-inch chain. 1st row: S c in 2nd ch from hook, s c in each ch until row measures 6½ inches. Cut off remaining chain. Ch 1, turn. 2nd row: S c in each s c. Ch 1, turn. Repeat 2nd row until piece is square. Fasten off. Make another piece like this for this holder; make 4 more for remaining 2 holders.
EMBROIDERY … Embroider in cross stitch, having each cross 2 stitches wide and 2 rows high. Follow illustra­tion for embroidery on each of 3 pieces, using full strand of any 2 colors of six strand for each piece. Make pads and sew plain piece neatly to back of each em­broidered piece. Sew bone ring to upper left-hand cor­ner of each pot holder.
RACK … Make a 12-inch chain. Work as for pot holder pieces, making each row 10½ inches long in­stead of 6½ inches long. Work straight until piece measures 4 inches in all. Fasten off.
Fold edges in half (fold is lower edge). Embroider "POTS 'n PANS" just above lower edge. Seam side edges. Insert a cardboard, measuring 2 x 10½ inches and sew opening closed. Sew 2 bone rings at upper edges. Screw 3 hooks at bottom of rack; hang holders on hooks.
other patterns in leaflet: