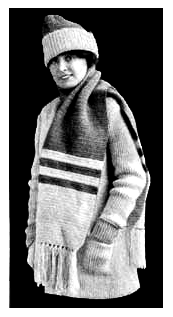 Become The Envy Of Your Family and Friends: Five Tips on How to Crochet a Scarf
There are instances where all your outfit planning results in failure… all because you have missed something to go along with it. Sometimes, your neckline is bare or you should have had more color in the apparel. The majority of folks have collected a significant amount of scarves over the years, which have often served as the answer to the outfit problem.
Obtaining a great scarf is going to cost you a pretty penny. And, the best way to save your money and still get a great scarf is probably to purchase a square of fabric and fringe the ends. This allows you to get the plain scarf you want with the color you desire.  You can do the same thing with the square of fabrics that your outfit is made with to soften the neckline or tie a turban. It's certainly a compromise for hat-haters.
Or, you can add some chic to the scarf by designing scarves tailored to just you.  It may sound impossible to do but… it's not! Thanks to various crafting methods that are around today, you can produce a chic scarf within no time.
Tips To Help You Learn How To Crochet a Scarf
What you'll need is some yarn; "worsted weight" typically does best. You can use whatever color you desire. You'll also need a small pair of scissors, big eye yarn needle and a crochet hook. Of course, you can't use any of the materials and create your scarf without a crochet scarf pattern to help you out.
Bear in mind that getting the best crochet scarf pattern isn't just what it looks like visually. It's going to also be the groundwork for your work. If you don't have the right kind of pattern, you won't be able to do the pattern. You will need to get some information on how to actually create the scarf.
Once you have everything you need, you can begin crocheting the scarf. Of course, it's important to remember that crochet scarf patterns are not created equal. It's possible some patterns won't work for you. This is especially so if you're just learning how to use your hooks to crochet. Want a little help pulling off your scarf creation? Here are five tips to get you going:
1 – Get The Right Size
Yes, it's highly unlikely that anyone will be unable to wear a scarf that's not the right size. However, it's important to bear in mind that short scarfs don't do any good. And, a long scarf…may actually be too long! Make sure you get the right length and size when you're crocheting your scarf.
2 – Get Measurements
Before you purchase your pattern, get some measurements. Some folks will say that a scarf is just a scarf and no real measurements are needed. However, here's an analogy to keep in mind: crocheting a scarf without measurements is similar to driving a vehicle that has no fuel in it… you won't get anywhere!
3 – Pick The Right Pattern
When you're looking for the ideal crochet scarf patterns, you want ones that come with instructions that are clear and concise. You certainly want to be able to understand what you're being told what to do…especially if you've never crocheted before.
4 – Carefully Choose Your Yarn
Besides having a good pattern, you need to have good yarn to pull off a great piece. In fact, having the best yarn possible is a key element to creating that great scarf.  After all, the yarn you choose to use will impact the product. If you want some pizzazz into your scarf, use metallic yarn to get that trendy, sophisticated look.
5 – Pick Patterns That Work With You
When you're choosing your patterns, it's important to consider your capacity. There are several cases where people chose a pattern for their project, only to find they're not able to finish it because the pattern is just too far advanced for their skill level. Thus, if you're just beginning to learn how to crochet, it's best to find patterns geared toward your skill level. As you become accustomed to doing the craft, then you can move on to more intricate styles.
The key thing to remember is to begin slowly and work your way up. Until you have mastered the art, it's important to avoid highly complicated patterns. Baby steps your advancement.
Yarn: worsted weight of your choice
Crochet Hook: U.S. Size I-9
Chain 24.
Row 1: Sc in 2nd ch from hook, * ch 1, skip next ch, sc in next ch; repeat from * across; turn.
Row 2: Ch 2, skip first sc, * sc in next ch-1 sp, ch 1, skip next sc; rep from * to last sp; sc in ch-2 sp; turn.
Repeat row 2 until you reach desired length. Fasten off. Weave in ends.
Fringe: Cut yarn 12 inches long, knot 4 strands in every third stitch.
Videos to help with basic steps for crocheting a scarf:
Click on video to play

Click on video to play