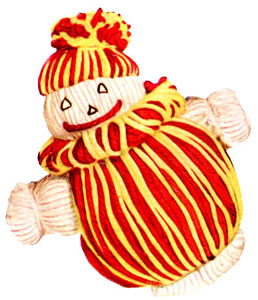 Materials Required: AMERICAN THREAD COMPANY
"AUNT LYDIA'S" HEAVY RUG YARN, Article 235
2 skeins Cream
1 skein each Red and Lt. Yellow or any 2 colors desired and
"STAR" SIX STRAND EMBROIDERY COTTON, Article 50
1 skein each Black and Bright Red
HEAD AND BODY SECTION—Wind Cream 160 times over a 9½ inch cardboard. Remove from cardboard and tie one end with double strand of yarn for top of head, then tie about 2¾ inches from top for neck.
ARMS—Wind Cream 60 times over an 8 inch cardboard. Tie about 1 inch from each end for hands. Tie at center. Insert arms through center of body. Tie below arms for waist. Divide the remaining part of body in half and tie about 1 inch from each end for feet.
SUIT—Wind Red over a 7 inch cardboard winding very care­fully keeping strands straight and close to each other for 6 inches, then wind one more row, cut yarn. With Yellow wind one row, cut yarn. Before removing from cardboard place a double strand of yarn through each end and tie loosely. Place suit around body having opening at back. Bring arms through sides. Tie the strands of yarn at feet very tightly, leaving feet free. Then bring the top part of suit up to the top of head and tie. Tie suit around neck edge of body very tightly. Remove the strand of yarn at top of suit and fold free ends downward forming a collar.
HAT—Around side of head work a circle in running st. Cut 6 inch lengths of both Yellow and Red. Use circle as a guide, place a strand of yarn over outline and sew center of strand to head using an overcast st. Sew strands close to each other alternating colors until circle is completed. Bring free ends upward, tie and trim.
Embroider Eyes with Black "STAR" SIX STRAND EM­BROIDERY COTTON and nose with Red.
other patterns in leaflet: