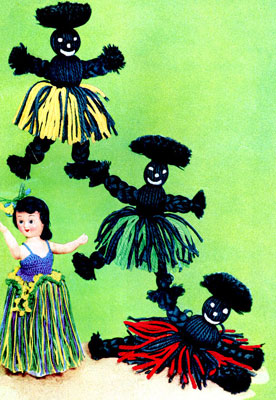 Materials Required: AMERICAN THREAD COMPANY
"DAWN" KNITTING WORSTED
1 oz. Black
1 oz. Scarlet or any contrasting color and "STAR" SIX STRAND EMBROIDERY COTTON, Article 50
1 skein White
½ yd. ¼ inch Black Ribbon
BODY—Over a 9½ inch cardboard wind Black 75 times. Tie 1 inch from one end for hair. Tie 1 inch from hair for neck. Tie 1¾ inches from neck for waistline. Divide remainder of yarn in half, then divide each half in 3 sections and braid for legs. Tie each leg about 4 inches from waistline. Trim ends as illustrated for feet. Trim top of hair and comb.
ARMS—Over a 7½ inch cardboard wind Black 60 times. Tie one end and cut the opposite end. Separate into 3 sections and braid. Tie about inch from each end. Trim for hands. Slip arms through center of body.
SKIRT—Cut 36 six-inch lengths of Black and 40 six-inch lengths of Red. Cut ribbon 16 inches longer than width of waistline. Starting with Red take 4 strands, bunch together at center and sew to ribbon 8 inches from one end. Take 4 strands of Black, bunch together at center and sew to ribbon close to Red group. Continue working in same manner to 8 inches from opposite end of ribbon, use all lengths and alter­nate colors. Place around waistline and tie a bow at back. With White embroider eyes, nose and mouth as illustrated.
other patterns in leaflet: