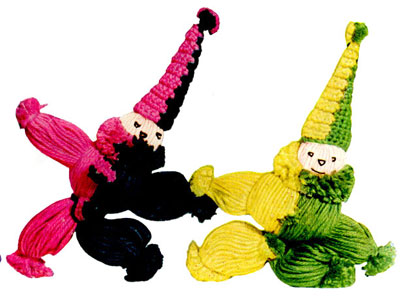 Materials Required: AMERICAN THREAD COMPANY
"STAR" RUG YARN, Article 44
1 skein Cream
1 skein each Chartreuse and Yellow or any 2 colors desired and
"STAR" SIX STRAND EMBROIDERY COTTON, Article 50
1 skein each Black and Bright Red.
Crochet hook No. 0
Use double strand of yarn for all tying.
HEAD—Wind Cream 100 times over a 4 inch cardboard, tie one end (top), then tie about 2 inches from top for neck.
BODY—Wind Chartreuse 50 times over a 9 inch cardboard. Slip a length of yarn through one end (top). Wind Yellow 50 times over a nine inch cardboard and slip the same length of yarn through one end. Place around center of face and tie at back, then tie about 1 inch from top at neck edge of head section. Cut length of yarn at top of body and ends to form a collar. Trim collar evenly.
ARMS—Wind Chartreuse 40 times over a 4½ inch card­board, slip a length of yarn through one end. Wind Yellow 40 times over a 4½ inch cardboard and slip same length of yarn through 1 end, then tie these 2 sections together (cen­ter of arms). Tie each free end about ¾ inch from edge for hands and trim. Place arms through center of body as illus­trated, having the Chartreuse arm on same side as Char­treuse on body.
Tie body below arms for waistline. Divide body in half and tie each section about ¾ inch from end for feet, then trim.
HAT—With Chartreuse ch 19, s c in 2nd st from hook, 1 s c in each of the next 8 sts of ch, drop Chartreuse, attach Yellow (when changing color always complete last half of last st with next color) and work 1 s c in each remaining st of ch, ch 1 to turn each row.
2nd Row—Working Chartreuse over Chartreuse and Yellow over Yellow for remainder of hat work even in s c.
3rd Row—Decrease 1 st at the beginning and end of row (to decrease: * insert hook in next st, pull loop through, repeat from * once, yarn over and work off all loops at one time). Work 1 row even. Repeat the last 2 rows until 2 sts remain, cut yarn. Sew long edges together and sew to head.
POMPONS—Over a 1¼ inch cardboard wind Chartreuse 15 times and Yellow 15 times, tie in center and trim. Work 2 more pompons in same manner. Sew 1 pompon to top of hat and 2 on body as illustrated. Embroider eyes, nose and mouth as illustrated.
other patterns in leaflet: