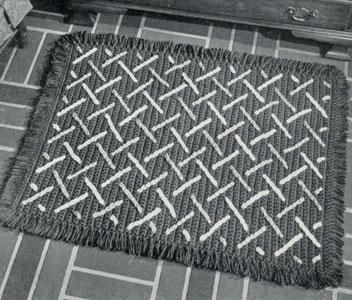 Size: 24 x 36 inches
Materials Required:
AMERICAN THREAD COMPANY
"AUNT LYDIA'S" HEAVY RUG YARN
16 - 70 yd. skeins Moss
2 - 70 yd. skeins each Bongo and Yellow
Aluminum Crochet Hook Size J OR ANY SIZE HOOK WHICH WILL RESULT IN STITCH GAUGE BELOW.
GAUGE: 5 s c = 2 inches; 5 rows = 2 inches
With double strand of Moss ch 62, 1 s c in 2nd st from hook and in each remaining st of ch, ch 1 to turn all rows. 2nd ROW: 1 s c in each s c. Repeat 2nd row 84 times, cut yarn.
EMBROIDERY: With double strand of yarn work according to chart starting in 3rd st of one end and in 3rd row. Repeat chart 3 times, then repeat 1st and 2nd rows work­ing a chain st over each st (chain st: work­ing on a slant, bring yarn up at base of 1st st to right side of work, * hold yarn down with left thumb to form loop, insert needle in same st and up at base of next st and through loop, tighten st, repeat from * required number of times).
FRINGE: Cut strands of Moss 6 inches long. Take 2 strands and knot through each st and each row all around. Trim fringe evenly.

other patterns in leaflet: