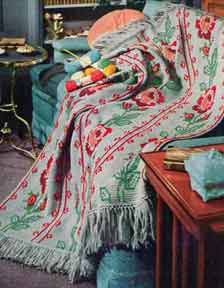 Size 54 inches x 71 inches without fringe
Materials Required: AMERICAN THREAD COMPANY "DAWN" KNITTING WORSTED
52 ozs. Lt. Gray.
5 ozs. Scarlet.
3 ozs. each Cardinal, Flame and Kelly Green.
Plastic Crochet Hook No. 6 or H.
Afghan Hook Size G.
AFGHAN ST: Ch for desired length, pick up and pull loop through each st of ch leaving all loops on hook, work back by drawing yarn through first loop, * yarn over hook and draw through 2 loops, repeat from * to end of row.
2nd Row. Same as 1st row picking up the vertical yarn instead of ch, then work back in same manner.
Repeat 2nd row for length desired.
AFGHAN STRIP: With Gray and Size G hook, ch 56 and work 55 afghan sts on ch. Work 215 more rows of afghan sts, then work 1 row of sl sts picking up the vertical yarn same as in afghan st.
With No. 6 hook work a row of s c on each long side.
Work 3 more strips in same manner.
Embroider all 4 strips according to diagram repeating pattern between arrows 3 times, then work remainder of chart. Continue working border pattern for entire length on both sides of strips having patterns 5 rows apart. Sew strips together as illustrated.
Using No. 6 hook, attach Gray yarn in corner st and working across short end, ch 4, skip 1 st, s d c in next st, (s d c: yarn over hook, insert in stitch, pull through, yarn over and pull through all loops at one time), * ch 1, skip 1 st, s d c in next st, repeat from * across row, cut yarn.
FRINGE: With Gray, cut strands 14 inches long. Using 3 strands, double in half and pull through each ch 1 mesh, draw ends through loop, repeat across short end. Complete other short end in same manner.